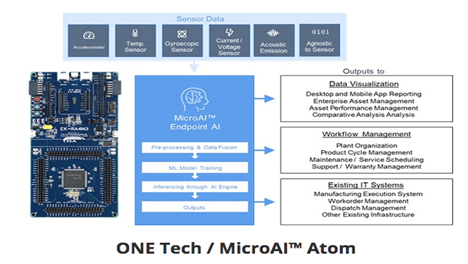 MicroAI Delivers AI Training to Renesas MCUs
MicroAI announced that it integrated its MicroAI AtomML technology with the Renesas RA Microcontroller (MCU) line. The result is delivering machine learning to MCUs and, for the first time, the ability to train ML models directly in an embedded environment.
be embedded at the source of the data, cost reduction and a faster time to market for AI-powered solutions.
MicroAI is a sophisticated patented ML algorithm that lives directly on a machine or IoT device, providing a deep insight into the behavior, health and performance of equipment and devices. Lack of visibility into asset performance means they can react only when a problem occurs. Creating greater visibility into manufacturing line operations, specifically what is causing both unplanned downtime events and nuisance events, adjustments can be made to reduce those events.
For more information visit www.micro.ai
Original Release: Business Wire