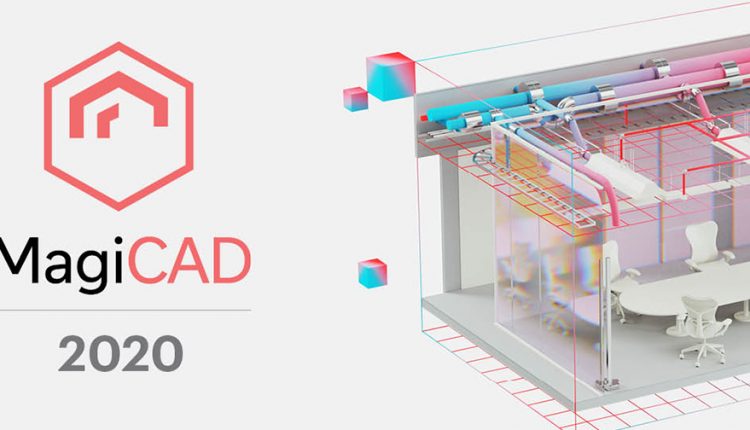 MagiCAD Group has released MagiCAD 2020 for Revit and AutoCAD. The new version introduces intelligent new functions and improved workflows for making Mechanical, Electrical and Plumbing (MEP) design faster and easier. MagiCAD 2020 supports the latest Autodesk platforms Revit 2020 and AutoCAD 2020.
MagiCAD 2020, together with the preceding two update releases, brings extensive new functionality for MEP design in Autodesk Revit and AutoCAD environments. The new release totals over 190 features and improvements for both platforms combined, making it the largest release yet by MagiCAD Group in terms of new functionality. The amount and variety of features allows MagiCAD 2020 to make design work easier and to improve workflows throughout the MagiCAD ecosystem.
Among the highlights of the new release, MagiCAD 2020 is now fully compatible with Autodesk BIM 360 Design, a real-time Revit cloud worksharing and design collaboration software. The compatibility allows MagiCAD datasets to be automatically synchronized in a Revit project ensuring that they are always up-to-date for all project participants.
Electrical designers will appreciate the completely updated wire routing functionalities in the new version. Intelligent functions, such as routing previews, route alternatives and automatic wiring between devices bring an entirely new level of sophistication to wire drawing. Additionally, new presentation modes and smart drawing tools improve the overall electrical design experience.
MagiCAD 2020 for Revit also allows ventilation and piping design using entire network branches. A branch can be copied, reoriented and then connected to an existing network. The possibility to use larger sections as design elements directly enhances modeling productivity and quality.
The new version also introduces a completely new responsive dimension to schematic drawing. When moving elements with the new Move & Stretch tool all associated symbols and elements adjust automatically and remain connected keeping the schematic drawing functional throughout. The automatic adjustment of associated elements makes editing schematic drawings easier than ever.
MagiCAD 2020 for AutoCAD enables even more accurate piping design through the use of constant pressure valves in domestic water systems and heat loss calculations for hydronic supply pipes. Electrical designers will benefit from improvements including power summaries for extra low voltage systems and easier centralized switchboard and panel management.
New functionalities in Circuit Designer, such as error checking, assignment of device areas and object property management notably improve workflows. Finally, the new version allows n50 and q50 values to be used for building air tightness in MagiCAD Room.
MagiCAD is a modular software with applications tailored for the different disciplines of MEP design, enabling powerful modeling and engineering calculations. MagiCAD automates many complex and time-consuming design tasks, saving time in day-to-day design work, and shortening the total project run-through times on average by 30% or more.