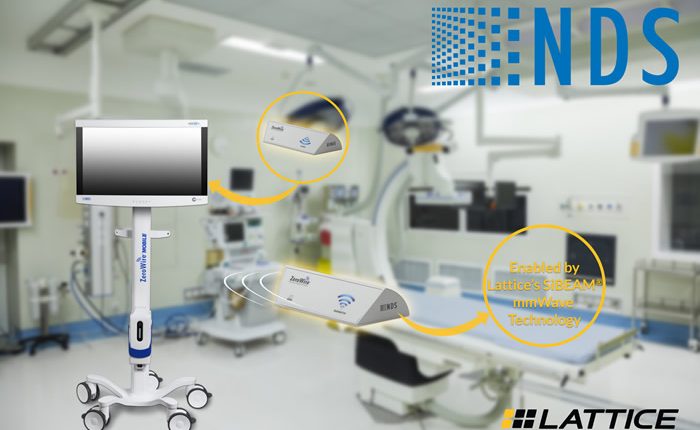 Partnership uses 60GHz technology to deliver wirelessHD video
Lattice Semiconductor, the leading provider of customizable smart connectivity solutions, and NDS Surgical Imaging, a leader in designing and manufacturing medical visualization, imaging and video processing systems, today announced a strategic partnership leveraging Lattice's WirelessHD solution specifically for medical device applications. Using Lattice's SiBEAM mmWave technology, NDS builds upon its award-winning ZeroWire ecosystem technology, delivering a second-generation platform and robust WirelessHD video link solution for endoscopic minimally invasive procedures including Endo/GI and laparoscopic surgery. This partnership strengthens NDS's market position to supply a real-time wireless 1080p video solution to global medical OEMs. A 4K ultra high-definition (UHD) wireless solution is a work-in-progress.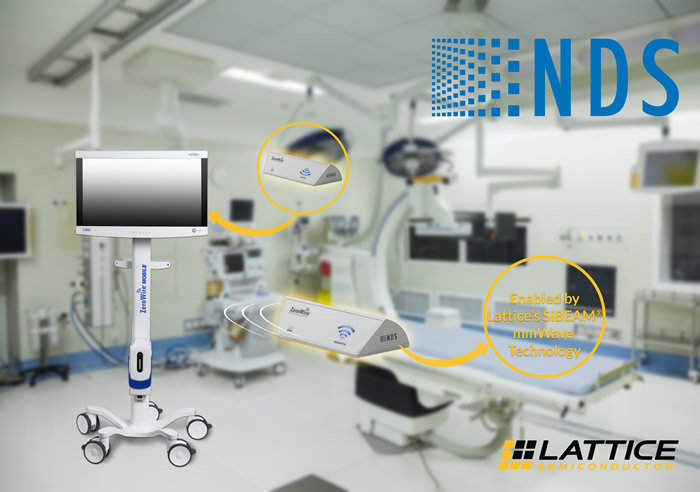 60GHz wireless connectivity can potentially mitigate the total cost of ownership to healthcare facilities by helping reduce installation, maintenance and cleaning costs associated with cables in the procedure room. By equipping operating rooms with ZeroWire WirelessHD connectivity—designed to provide real-time HD video without noticeable video delay from the image source to the NDS surgical display—cables become obsolete, thereby removing potential tripping hazards from the floor and decreasing the chances of mishaps, while also helping to streamline operating room procedures and improve overall efficiencies.
"Using our SiBEAM mmWave technology, the NDS ZeroWire solution enables the wireless transmission of HD video in the operating room, offering key advantages to healthcare professionals," said Brian White, Vice President and General Manager, industrial and automotive business at Lattice Semiconductor. "We have chosen specifically to partner with NDS to support medical manufacturers interested in leveraging 60GHz connectivity because of their proven expertise in medical imaging systems and regulatory compliance requirements. We believe our partnership will help accelerate adoption of WirelessHD connectivity in medical device applications resulting in greater cost savings and interoperability."
NDS brings an added advantage of in-depth expertise and understanding of the global regulatory compliance requirements for the medical industry. The company is FDA-registered and ISO-certified with all NDS products certified under the most stringent U.S., Asian and European medical regulations.
"As the healthcare industry drives to further streamline expenses, improve patient care and reduce hazards in the healthcare facilities, we looked for a wireless video link technology that would help address these needs while striving to differentiate our solution," said Karim Khadr, president and general manager at NDS. "We are proud to partner with Lattice, as the use of their WirelessHD technology within our ZeroWire ecosystem solution inside the operating room environment provides medical staff the utmost quality, reliability and mobility at a place and time that is most critical."