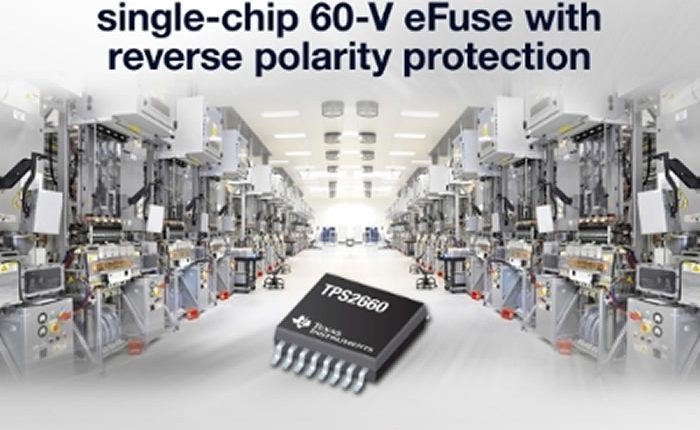 Single-chip 60V eFuse provides the highest protection rating
The first single-chip eFuse with back-to-back FETs, providing the industry's highest rating of protection at up to 60V,  has been introduced by Texas Instruments. Offering on-chip advanced features including reverse polarity protection and reverse current blocking, the TPS2660 is the most integrated eFuse on the power management market for 24 and 48V rail applications in industrial, automotive and communication infrastructure designs.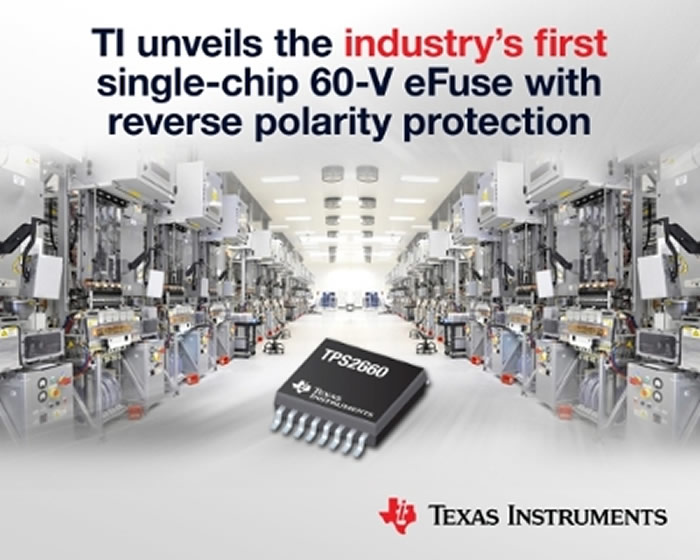 Key features and benefits of the TPS2660 eFuse
Integrated back-to-back FETs: The device's unique architecture equips the TPS2660 with the following:

Enables reverse polarity protection to help guard the system load from miswiring, which can occur in industrial equipment that use screw terminals.
Reverse current blocking prevents current from flowing backward from the output side to the input side.
Advanced protection and integration reduce board space up to 40% by eliminating the need for external components.

Adjustable overvoltage protection up to 60V: Helps designers pass industry-standard surge-compliance tests more quickly and reliably, including the electrical fast transient (EFT) test.
Start designing now with the Input Protection and Backup Supply Design for 25W PLC Controller Unit, in which the LM5002 and LM5160 DC/DC converters provide backup power supply to meet International Electrotechnical Commission (IEC) 61000-4 specifications.
The TPS2660 is the newest addition to TI's portfolio of eFuses, providing protection against overvoltage, overcurrent and short-circuit events for applications. The portfolio encompasses protection devices for industrial, personal electronics, automotive and enterprise systems.