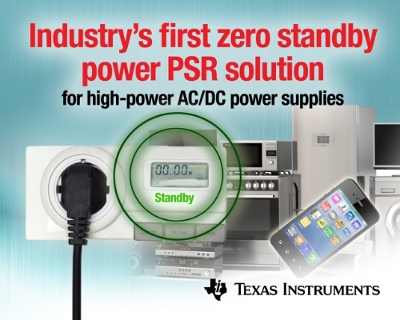 Texas Instruments (TI) unveils industry's first zero standby power PSR solution for high-power AC/DC power supplies
Texas Instruments introduced the industry's first zero standby power controller chipset with the lowest standby power consumption for AC/DC flyback power supplies up to 75 W.
Taking power supply efficiency to the next level, the new UCC28730 primary-side regulation (PSR) flyback controller with 700-V startup switch and UCC24650 wake-up monitor supports 5- to 24-V output voltages and helps designers create smaller, more efficient power supplies for TVs; home appliances; AC adapters; heating, ventilation and air conditioning (HVAC); and building automation systems. For more information and samples, visit www.ti.com/UCC28730-pr.
A major design limitation with existing primary-side regulation power supplies today is poor transient response performance while trying to maintain low standby power. The UCC28730 and UCC24650 chipset achieves zero standby power consumption while achieving the best transient response performance possible. Besides reducing cost by eliminating feedback components such as an optocoupler and TL431, TI's voltage droop-detection feature in the UCC24650 wake-up controller enables the use of tiny output capacitors while maintaining a narrow-output voltage-regulation window with zero- to full-load transients.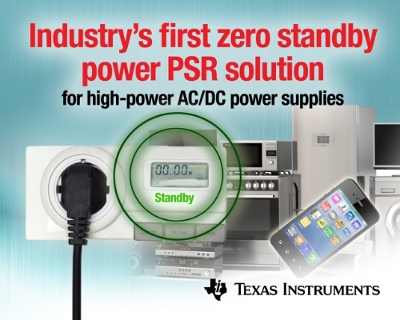 TI will demonstrate the UCC28730 and UCC24650 at booth No. 1001 at the Applied Power Electronics Conference and Expo (APEC) in Charlotte, North Carolina, March 15-19. Follow TI at www.ti.com/APEC15.
Key features and benefits of the UCC28730 and UCC24650:
Industry's lowest system-standby power consumption: Enables zero standby* power consumption without any additional components in standard flyback designs up to 20 W and is extendable up to 75 W using the intelligent sleep function for adaptive relay control.
700-V primary-side regulation controller (UCC28730): Eliminates the need for an optocoupler and associated feedback components, reducing overall system cost while increasing reliability.
Smart wake-up function: Enables 50 percent lower output capacitors while maintaining a tight output regulation window with zero to full load steps, improving efficiency and saving space.
Intelligent sleep function: Adapts to converter-loading conditions and is able to disable system functions, adapt for AC relay control, or disable the synchronous rectifier at no load.
200-V secondary-side wake-up controller (UCC24650): Compatible with 5- to 24-V output voltage designs without the need for external clamps on Vdd or wake.Tools and support Speed time to market by entering your design parameters to create a custom design using WEBENCH® Power Designer or by downloading a fully tested TI Designs reference design for a

12-W, 24-V offline power supply

(PMP10927) based on the UCC28730 and UCC24650 chipset. Designers can quickly evaluate and test their power-supply designs with the

UCC28730EVM-552

10-W, 5-V evaluation module (EVM), or download the TI Designs reference design based on the EVM

here

.Find out more about TI's power management solutions:
Availability and pricing Both products are shipping in volume production and available for ordering through the TI Store and the company's authorized distribution network. The UCC28730 flyback controller comes in a seven-pin small outline integrated circuit (SOIC) package and is priced at US$0.45. The UCC24650 comes in a five-pin small-outline transistor (SOT)-23 package and is priced at US$0.14 in 1,000-unit quantities.
This chipset solution is designed to work with TI's ultra-low-power DC/DC converters, sensors, radio frequency (RF) devices (including the SimpleLink™ CC26xx/CC13xx wireless microcontroller [MCU] platform) and MSP430™ MCUs to keep more system functions alive in standby mode while still maintaining zero standby consumption performance for the entire system. The UCC24650 is also compatible with TI's

UCC28633

PSR controller, which enables peak power delivery two times higher than rated name plates without a proportionate increase in magnetics size, making it optimal for applications such a printers, audio, gaming and industrial power supplies.