Those of you with little ones may often experience the battle of getting children to brush their teeth. Electric-toothbrush manufacturer, Philips, has come up with a high tech solution to this problem.
Since kids are playing on smartphones and tablets at such an early age, the company decided to develop a connected electric toothbrush that works alongside a downloadable app to encourage brushing.
The Sonicare for Kids, rechargeable toothbrush, allows kids to adopt their own 'Sparkly' an interactive brushing buddy.
Sparkly – the brushing coach
As kids brush, he offers tips and allows kids to chase bacteria off of the screen during sessions.
The app also tracks each session's duration so parents can follow along.
The actual toothbrush performs over 500 strokes per second and the company said it's over 75% more effective than handheld toothbrushes for hard-to-reach areas.
It has a built-in timer so parents can be sure their kids are brushing for two full minutes, as well as two kid-friendly power modes to cater to different age groups.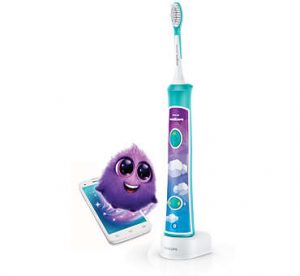 The app and toothbrush encourage children to learn how to brush properly on their own.
The app tracks progress and offers rewards based around Sparkly.
Each time they do a good job, Sparkly gets happier.
They can also unlock different Sparkly features and earn food for their pal.
The Philips Sonicare for Kids can be purchased for $50.
The app can downloaded for free as well.