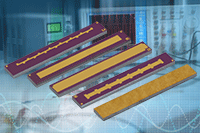 Vishay Intertechnology's Thin Film Bar MOS Capacitor Delivers High Power in Two Miniature Case Sizes for Hybrid Assemblies
MALVERN, Pa. — Vishay Intertechnology, Inc. (NYSE: VSH) today introduced a new designed for use in high-power hybrid assemblies and SiC and GaN applications. The Vishay Dale Resistors Electro-Films BRCP offers high power handling and operating voltage up to 100 V in two compact case sizes measuring 120 mil by 35 mil (case A) and 240 mil by 35 mil (case B), allowing for smaller product designs without sacrificing performance.
With its high working voltage over a capacitance range of 5 pF to 100 pF and robust MOS construction, the device released today is optimized for LC, RC, or LRC filters, RF choking, and DC blocking and impedance matching. For these applications, the BRCP can accommodate multiple wire bonds, with seven bonds for case A and 15 bonds for case B at their lowest values.
The bar capacitor features low TCC down to ± 50 ppm/°C and absolute tolerance down to ± 5 %. The device provides excellent load-life stability and operates over a wide temperature range of -55 °C to +150 °C.
Samples and production quantities of the BRCP bar MOS capacitor are available now, with lead times of 10 weeks for larger orders.
Vishay Intertechnology, Inc., a Fortune 1000 Company listed on the NYSE (VSH), is one of the world's largest manufacturers of discrete semiconductors (diodes, MOSFETs, and infrared optoelectronics) and passive electronic components (resistors, inductors, and capacitors). These components are used in virtually all types of electronic devices and equipment, in the industrial, computing, automotive, consumer, telecommunications, military, aerospace, power supplies, and medical markets. Vishay's product innovations, successful acquisition strategy, and "one-stop shop" service have made it a global industry leader. Vishay can be found on the Internet at www.vishay.com.