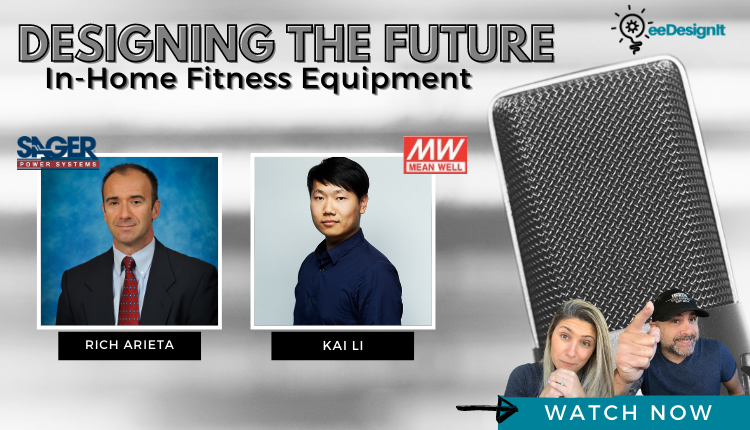 The COVID-19 outbreak and subsequent fitness center closures led many Americans to opt for in-home fitness options over the last several months. While this could be a main source for the uptick in in-home fitness equipment sales recently, Kai Li, Product Manager at MEAN WELL USA, says this trend has already been moving upward for some time.
"Now we're seeing a lot more design activities, and a lot more startups trying to get into this home fitness equipment space," says Li.
With this increase comes engineering design considerations—one of which is power.
However, there are many aspects of design to consider for any type of home health care or fitness equipment.
For starters, there are specific safety and requirement issues that need to be looked at when designing this type of equipment such as safety standards for household appliances and motor operated massage and exercise equipment.
Power requirements may vary depending on the type of equipment at hand, and these days, end users want to be so connected, even to their fitness equipment, that there's much to consider in the connectivity realm, too.
In this discussion, Kai Li and Rich Arieta of Sager Power Systems consider the future of fitness equipment with design engineers in mind, focusing on standards and protocols, power solutions and customization options that allow engineers to rely on the expertise of companies like Sager.
Sometimes using off-the-shelf parts for this type of design just isn't feasible. Instead of creating customized solutions that will increase time-to-market, why not build on existing OTS parts?
We'll talk more about that, too.
We'll also look into the future to see how this spike in in-home fitness equipment may lead to an evolution of in-home health care and therapeutic equipment and what engineers need to be ready for in order to grow with the times.
What You'll Learn:
What design engineers should consider when designing for the future of home fitness equipment.
What challenges may present when it comes to using OTS parts, and how modified solutions save time and money.
The requirements and standards that are critical for engineers to consider when designing in-home fitness equipment.
Types of power solutions available for home fitness design.
What's next in the evolution and how engineers can prepare and stay ahead of the curve.
More About The Experts:
Kai Li, Product Manager, MEAN WELL
Mr. Li began his career at MEAN WELL USA as an application engineer in 2016. In a brief two-year span, he was promoted to product management where he has been instrumental in new product development, product launches and overall market positioning of MEAN WELL's world-class AC/DC, DC/DC and configurable technologies. Mr. Li has a Bachelor of Science in Electrical Engineering from the University of California, Los Angeles.
Rich Arieta, Director of Business Development, Engineered Solutions, Sager Electronics
Mr. Arieta currently leads the business development activity of Sager's Electronics value-add program. In this role, he works closely with Sager's sales engineers and field sales teams to uncover new value-add opportunities within power and thermal. With an extensive background in sales, management and engineering, Mr. Arieta was instrumental in transitioning Sager's application engineering program into the company's specialized group, Sager Power Systems. Mr. Arieta has a Bachelor of Science in Electrical Engineering from the University of Rhode Island.
Products Mentioned In This Video
Medical versions of each product type:

For more information visit:
www.sager.com
www.meanwellusa.com