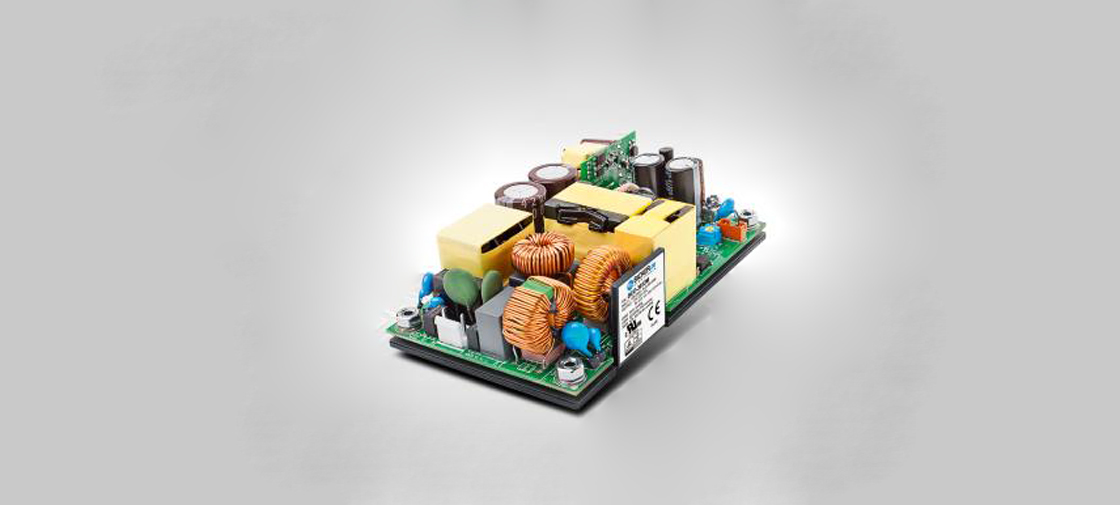 Credit: Bicker
The new BEO-3,000M AC/DC switching power supply series from Bicker Elektronik, Donauwoerth/Germany, was developed for space-saving installation in medical devices and medical computer systems. The 3×5″ open frame power supplies are available with precisely regulated DC single output voltages of 12, 24, 36 or 48V, which can be fine tuned in the range of ±5%. In addition, a 5V standby and a 12V fan output is available.
The particularly high quality and robust built medical power supplies for reliable 24/7 continuous operation provide an output power of 250W fanless or 300W with 10 CFM airflow. With a high efficiency of up to 94%, a standby power consumption of less than 0.3W and an operating temperature range of -40°C to +70°C, the BEO-3,000M series is also convincing in closed systems. For international use, the medical switching power supplies have a wide-range input (90 to 264VAC at 47 to 63Hz) with active PFC power factor correction.
With a high isolation voltage of 6,516VDC between input and output, the BEO-3,000M series complies with the medical safety standard two MOPP (Means Of Patient Protection) and has international medical safety approvals: IEC60601-1:2005+A1:2012 (Edition 3.1), EN60601-1:2006+A1:2013 (Edition 3.1), ANSI/AAMI ES60601-1:2005 (3rd Edition).
The BEO-3,000M series comes standard with short circuit and overtemperature protection with auto-recovery and over-voltage protection with shutdown, as well as a remote sense function to compensate voltage drops on the output lines to the load. No base load is required at the outputs, so latest-generation mainboards (Skylake / Kaby Lake / Coffee Lake / Gemini Lake) with their special power-saving modes can be safely supplied. For operation of medical computer systems, the BEO-3,000M power supplies also have ATX-compatible PSON and PG / PowerGood signal ports.
In addition to the long-term availability of at least five years Bicker Elektronik grants a warranty of three years on the power supply series BEO-3,000M. In addition, the power supply specialist offers suitable accessories such as the two AC input cables X1-054 (two-pin) and CB-105-3-600 (three-pin), the IEC connector filter PSZ-1019-B1 incl. cable and ferrite as well product specific connection cable set PSZ-1035.
On top of the pure power supply product, Bicker Elektronik offers comprehensive value-added services, especially for system developers: Beside the optimum product features of a power supply, the personal on-site consultation of system developers during the design-in process by experienced sales engineers is of crucial importance. With a strong sales, development and service team, Bicker Elektronik competently and reliably accompanies its customers throughout the entire product development process, right up to series production. As part of the Power+Board program, customers receive tested and perfectly matching PSU+Mainboard bundles plus industrial grade accessories for high-end computer systems – all from a single source. On request, the specialists from Bicker Elektronik realize customer-specific special solutions and also offer extensive laboratory and measuring services for complete customer systems.
Bicker BEO-3,000M features:
Medical power supply EN/UL60601 2xMOPP
250W continuous fanless power
Very compact design
High power density
High efficiency up to 94%
Adjustable output voltage
Remote Sense feature
PS On / Off Remote Control
Power Good and Power Fail signal
+5V standby output
Low standby consumption <0.3W
Wide temperature range -40 to +70°C
Suitable for 24/7 continuous operation
Long-term availability at least five years
Three years warranty