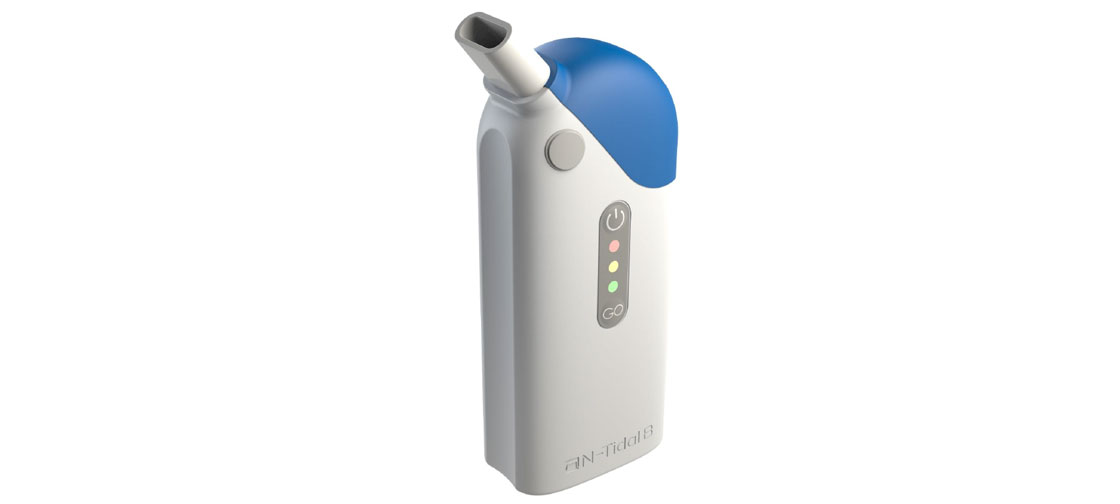 The changing CO2 content of a breath creates a waveform shape of the inhalation and exhalation that has been established as an indicator for several medical conditions. Called capnography, the equipment needed to detect this is large, expensive, and mains-powered, which has restricted its use to monitoring anesthesia in operating theaters and critical care.
Gas Sensing Solutions (GSS) is changing this with its innovative CO2 sensor technology. The company uses a specially developed LED as the light source at the heart of the sensor. As this can turn on and off almost instantaneously, readings can be taken at more than 50 times a second. Also, the LED requires very little power, enabling battery-powered CO2 sensing devices to be created with long battery lives.
This breakthrough in CO2 sensing is being commercialized for the medical market by GSS' sister company, Cambridge Respiratory Innovations Limited (CRiL). GSS has exclusively developed an ultra-fast, compact version of its SprintIR 6S CO2 sensor for CRiL to provide the level of accuracy needed to produce detailed waveforms and to work in the challenging medical environment. This has enabled CRiL to develop a hand-held personal respiratory monitor, called N-Tidal, which analyzes CO2 levels in normal tidal breathing.
The research, development and feasibility studies for N-Tidal have taken four years which has been funded by CRiL's shareholders, the UK government (through Innovate UK) and charities. CRiL has just secured a £900,000 development contract from the NHS to create the market-ready monitor for use in clinical studies that will lead to N-Tidal being registered for medical and patient use. Advanced prototypes of this innovative technology have already been used to investigate a range of conditions from Asthma to Cystic Fibrosis, and from Chronic Obstructive Pulmonary Disease (COPD) to Congestive Heart Failure. CRiL's development contract comes from SBRI Healthcare, an NHS body that funds innovations with a positive impact on patient care and which will save the NHS money.
CRiL's £900,000 development contract was part of an £8.7m award. Successful companies were selected from a shortlist of 22 companies that had received six months feasibility funding in April 2017. Announcing the award, SBRI Healthcare said: "The successful companies demonstrated best value and greatest technical feasibility to a panel of experts looking for game-changing technologies with the highest potential value to patients and the health service. With individual awards of between £700,000 and £1m, the companies will be supported and fully funded to continue with product development and testing."
Jeremy Walsh, CRiL's CEO, said: "Currently there are no personal respiratory monitors for the millions of people with asthma and COPD. In the UK alone, over 5.4 million people are being treated for asthma and 800,000 for COPD. Our technology will provide the early warning that they are deteriorating towards an asthma attack or COPD exacerbation. Without an N-Tidal monitor, patients often only recognize the symptoms once they've reached the stage when hospitalization is needed and their health has been compromised.
"Frequently the patient is then more susceptible to a repeat episode, risking a downward spiral of increasing ill health. N-Tidal could dramatically improve patient diagnosis and treatment across many respiratory diseases, significantly improving patient's quality of life. Additionally, we believe that N-Tidal has the potential to save the NHS more than £100m a year by providing advance warnings of a respiratory deterioration, enabling early medical intervention and reducing avoidable hospitalizations."
Dr Julian Carter, CRiL's Technical Director, added: "We're very excited about the capabilities of our technology, which are only possible because of the custom-designed, highly-responsive and stable CO2 sensor that GSS developed. No other CO2 sensor can react as fast with the high levels of accuracy needed, and be battery powered. GSS also helped us solve the major design challenge of high humidity levels in the exhaled breath."
Calum MacGregor, CEO at GSS, concluded: "The very low power requirement, high precision and fast response times of our CO2 sensors are opening up a new field of battery-powered application solutions. These range from this design through to personal CO2 warning systems that are worn like badges to provide alerts in areas where CO2 might spike into dangerous levels."