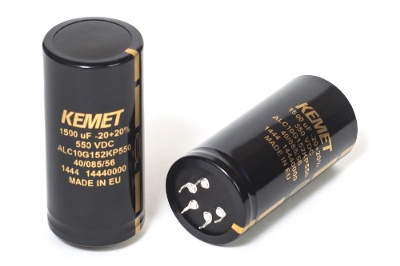 KEMET Introduces High Voltage Snap-In Aluminum Electrolytic Capacitors
KEMET Corporation (NYSE: KEM), a leading global supplier of electronic components, announced its new high voltage ALC10 Series snap-in aluminum electrolytic capacitors today at APEC 2015 in Charlotte, N.C. These compact 550 VDC rated capacitors are designed for high ripple current applications and feature surge voltage capability and very long life performance.
Developed at the KEMET Electrolytic Innovation Center in Weymouth, U.K., ALC10 Series capacitors are ideally suited for industrial and commercial applications demanding high reliability with operational life up to 18,000 hours. Typical ALC10 Series applications include frequency converters, uninterruptible power supply (UPS) systems and high voltage switch mode power supplies (SMPS).
"As the voltage rails used in modern inverter-based systems continue to increase, the need for high voltage, high capacitance solutions in smaller packages is critical," said Mark Wright, KEMET Director of Technology, Electrolytic Business Unit. "The new electrolyte developed for the ALC10 Series allows for high voltage capabilities up to 550 VDC in a small, board mountable form factor, making them ideal for solar photovoltaic inverter and motor driver designs."