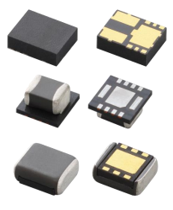 Murata Power Solutions MYR Ultra-Small DC/DC Converters Now Shipping from Sager Electronics
Sager Electronics, a leading North American distributor of Interconnect, Power, Electromechanical, and Thermal solutions and provider of value-add solutions, is now stocking Murata Power Solution's MYR series ultra-small .5A to 2A Converters.
The MYR series of PicoBK™ Non-Isolated DC/DC converters integrate a coil and a control IC into a single package. The ultra-small form-factor measures from 2.5 x 2.0 x 1.0 mm to 3.1 x 4.7 x 1.3 mm depending on model. The MYR series is significantly smaller than discrete solutions. These DC/DC converters achieve high efficiency, low noise, and high heat dissipation. The devices are designed for a 2.5 V to 5.5 V source such as a Li-ion battery to as high as 18V for some models.
These environmentally friendly, low power consumption step-down DC/DC converters are in stock at Sager Electronics. Click here to learn more.
About Sager Electronics
Sager Electronics, a wholly owned subsidiary of TTI Inc., a Berkshire Hathaway Inc. company, is a North American distributor of Interconnect, Power, Electromechanical and Thermal solutions from leading manufacturers worldwide and a provider of value-add solutions. Grounded in over 130 years of innovation and service, Sager Electronics provides customers and suppliers a unique combination of operational excellence and innovative business solutions through its Distributing Confidence® business model. Headquartered in Middleborough, MA, Sager Electronics operates a national network of field sales representatives and power systems sales engineers, strategically located service centers across North America, a value-add Power Solutions Center located in Carrollton, TX, and a value-add Battery Solutions Center in Lisle, IL. To learn more about Sager, visit www.sager.com.