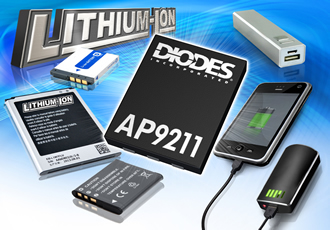 Protection device from Diodes brings added safety
Diodes Incorporated has introduced a battery protection device specifically designed for the safe operation of 1-cell lithium-ion (Li+) battery packs. The AP9211 combines a protection chip with a dual N-channel MOSFET to provide a rich set of features that include overcharge, over-discharge and load short-circuit detection. 1-cell battery packs for smart phones and power banks are the primary end-market and this protection circuit is aimed at the manufacturers of protection circuit modules who supply the battery pack makers.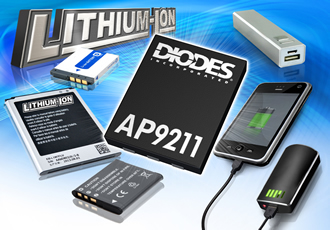 The AP9211 co-packages a battery protection chip and a standard dual N-channel common-drain MOSFET in a small 3mm x 2mm 6-pin package. The low profile (<0.6mm) of the U-DFN2030-6 package helps achieve a slimmer protection circuit board design, which in turn allows for larger battery capacities for a given battery size. By continually monitoring voltage and current, the chip can rapidly turn off the MOSFET to prevent overcharging or excessive discharge conditions, including load short circuit.
Further benefits of the AP9211 are the use of a high voltage (up to 30V) CMOS process that can endure surge voltages. The process also enables high accuracy voltage detection with stable temperature coefficient performance. The device achieves power savings from its low quiescent operating current, typically 3.0μA in normal mode and 0.1μA maximum in power-down mode. Another feature is the built-in fixed delay time that reduces the need for external components.
In 10k piece quantities, the AP9211 is priced at $0.19 USD each.