Researchers 3D print "smart cap" that detects spoiled food
University of California, Berkeley researchers are taking expiration dates to a whole new level. Imagine not having to check the dates on your perishables or take a whiff to make sure your milk has not spoiled.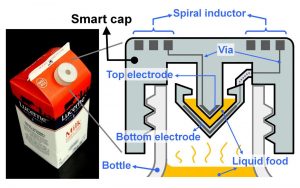 Well, UC Berkeley engineers teamed up with Taiwan's National Chiao Tung University to develop a 3D-printed "smart cap" that can detect spoiled food.
The teams harnessed 3D printing technology to incorporate electrical components like resistors, inductors, capacitors and integrated wireless electrical sensing systems into a plastic milk cap.
The smart, wireless cap was fitted with a capacitor and an inductor in order to form a resonant circuit. The team flipped the carton over to allow some milk to get trapped in the capacitor gap on the cap and then left it unopened at room temperature for 36 hours. The circuit in the cap was able to detect changes in electrical signals that occur when there are increased levels of bacteria (common for spoiled milk).
Although polymers are great materials for 3D printing due to flexibility, they are also poor conductors of electricity (a crucial component of the "smart cap") so the teams needed to devise a better plan when it came to constructing its cap. The researchers built a system using polymers and wax, but then would remove the wax and leave a hollow tube which they filled with liquid metal, in this case silver.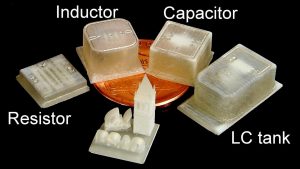 "This 3D-printing technology could eventually make electronic circuits cheap enough to be added to packaging to provide food safety alerts for consumers," said Liwei Lin, professor of mechanical engineering, in a UC Berkeley article. "You could imagine a scenario where you can use your cellphone to check the freshness of food while it's still on the store shelves."
Other potential applications include implantable devices with embedded transducers that can monitor blood pressure, muscle strain and drug concentrations.