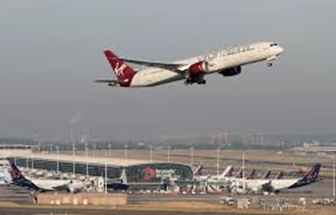 Inmarsat recently commissioned an extensive survey that reveals the attitudes of almost 10,000 airline passengers globally. While Americans tend to be the most confident in taking flights, 90% of them expect their habits will change as a result of COVID-19.
The survey, dubbed the 'Passenger Confidence Tracker,' is the world's largest survey so far, reflecting the attitudes of 9,500 respondents from 12 countries on the future of flying. 1,000 U.S. passenger responses (who have flown in the past 18 months) are detailed in the report and suggest a long-term shift in travel habits is underway. A whopping 43% of American passengers are planning to travel less often by any means, and a third (36%) expect to fly less.
U.S. passengers, second only to passengers in India, are the most likely to have flown during the COVID-19 pandemic, and account for 50% of those surveyed. Globally, only 34% of passengers surveyed have flown, with numbers as low as 23% in the United Kingdom. 60% of U.S. passengers surveyed say they would feel confident flying within the next six months – compared to 47% worldwide.
Of those indicating satisfaction with the airline industry's pandemic response, 71% of U.S. passengers surveyed state that they are satisfied, compared with 41% of passengers from the UK and 37% of South Koreans. U.S. passengers feel least confident with passport control when staying somewhere abroad. The biggest concerns preventing U.S. passengers from traveling are the risk of catching the virus abroad (53%) and catching the virus on the plane or in the airport (53%).
The research yields actionable solutions for airlines designed to boost confidence, including:
Streamlining the journey: the reallocation of empty seats for social distancing and inflight immigration clearance would boost confidence for 84% and 74% of US passengers respectively.
Digital solutions that minimize touchpoints and engagement: contactless payments inflight and accessing inflight entertainment on personal devices would boost confidence for 78% and 73% US passengers respectively.
Keeping passengers connected: Half of US passengers say inflight Wi-Fi is more important now, and digital services such as destination status alerts and telemedicine would boost confidence by 74% and 70% respectively.
Value-added services: From extra legroom (48%) to free baggage (49%), value-added services are increasingly important to US passengers.
There is a clear opportunity for airlines to implement digital solutions that boost confidence by minimizing touchpoints in the journey and ensuring that passengers are kept connected and entertained.
Inmarsat recently announced a new service to bring unrivaled inflight Wi-Fi to airlines and passengers across the North American continent. GX+ North America is specifically designed, in partnership with Hughes, for North American airlines. It ensures airlines meet increasing passenger demand for digital services in the cabin, including free-of-charge inflight Wi-Fi.
Respondents were surveyed across the United Kingdom, United States, Germany, Australia, South Korea, Singapore, United Arab Emirates, India, Brazil, Hungary, Finland, and Spain. The full report is available to download here.