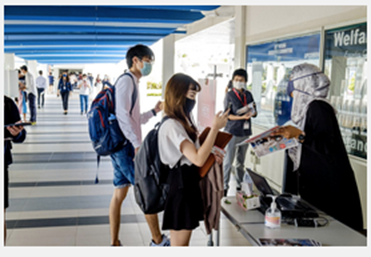 Young Singaporeans Dismissed COVID-19 as Threat to Themselves
A study by Nanyang Technological University Singapore (NTU Singapore) found that young people in Singapore considered COVID-19's threat to be aimed only at their parents and older relatives, but not themselves.
The group, according to the study, was more concerned about the dangers of fake news surrounding the pandemic, rather than the health threat posed by the disease. They believed that misinformation affected the older generation more than themselves.
Led by NTU Singapore's Associate Professor Edson Tandoc Jr and researcher James Lee Chong Boi, the study involved eight focus group discussions with 89 participants aged 21 to 27, held in early February 2020.
At the start of the study, 24 cases were confirmed increasing to 74 by the time the last focus group discussion was conducted. The focus groups found that many young adults relied on social media and messaging platforms for information on COVID-19 rather than researching for reliable data on the pandemic. The result was that they considered the pandemic's risk was only to older adults, causing them to not wear masks before they were mandated.
What was learned from initial public reactions to COVID-19 was that changes needed to be made in how to handle outbreaks in the long term and how to engage youth early on in proactive behaviors against a virus. The study, 'When viruses and misinformation spread: How young Singaporeans navigated uncertainty in the early stages of the COVID-19 outbreak' was published in the peer-reviewed academic journal New Media & Society in October (doi:10.1177/1461444820968212).
Singapore saw its share of fake news including messages claiming malls and MRT stations were closed due to suspected cases, to various home remedies to protect oneself from the virus, such as drinking sesame oil. Older groups in Singapore changed their behavior just in case the pandemic information was true.
The youth felt the need to actively protect their parents and relatives from misinformation instead of protecting everyone from the real health risk.