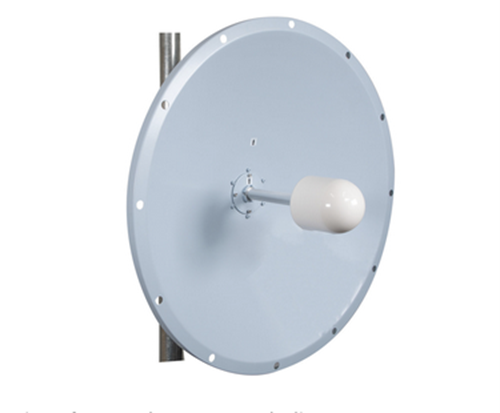 Rugged 3.5GHz Parabolic Antennas Yield High-Gain and Withstand Weather
KP Performance Antennas just unveiled its new line of 3.5 GHz parabolic antennas targeting wireless MIMO LAN, IEEE 802.11b/g/n/ax, point-to-multipoint, 3.5 GHz CBRS and mobile WiMAX wireless Internet provider applications.
There are two new models that KP claims outperform flat panel or similar size antennas in terms of lower side-lobe levels and gain. They reduce interference in backhaul PTP link or on the client-side in a PTMP link. These 1-foot antennas deliver 20 dBi of gain, and the 2-foot antennas provide 23 dBi of gain.
The rugged design includes a heavy-duty bracket and a polyester-based powder coating that resists corrosion and mitigates ice and water build-up, making them ideal for industrial and corrosive applications.