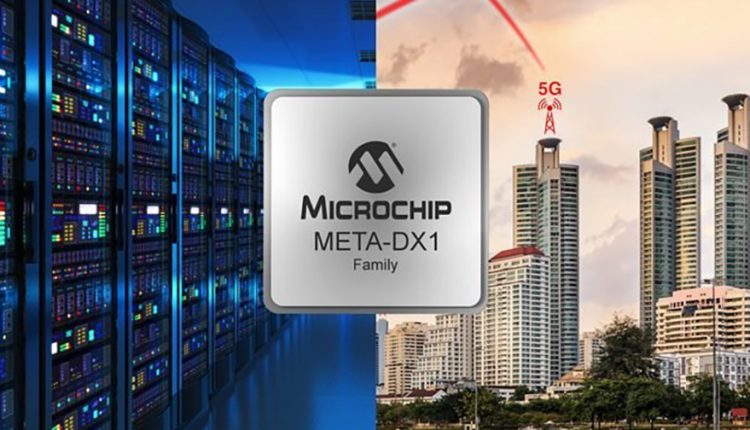 Terabit-Scale Ethernet PHY Enables High-Density Connectivity
A new set of capabilities have been enabled by Microchip, via its Microsemi subsidiary, with its META-DX1 family of Ethernet Physical-Layer (PHY) devices. The family enables telecom service providers to build out networks using routing and switching platforms that reduce costs, optimize bandwidth and increase capacity, security and flexibility.
Integrated into a single chip, the META-DX1 family combines Ethernet ports from one Gigabit Ethernet (GbE) to 400GbE, Flexible Ethernet (FlexE), Media Access Control Security (MACsec) link encryption and nanosecond timestamping accuracy at terabit capacity.
The industry is transitioning from 100 to 400GbE to support traffic within hyperscale data centers. According to Cisco's Global Cloud Index, this traffic will quadruple by 2021 with data center-to-data center traffic growing at more than a 30 percent Cumulative Annual Growth Rate (CAGR).
The META-DX1 enables line cards to quadruple in capacity, from 3.6 terabits per second (Tbps) to 14.4Tbps with 36 ports of 400GbE or 144 ports of 100GbE, while supporting key features needed by service providers.
The META-DX1 MACsec engine secures traffic leaving the data center or enterprise premises. FlexE enables both cloud and telecom service providers to meet capacity requirements while reducing fiber-plant capital expenditures by optimally configuring links beyond today's fixed-rate Ethernet so they can use low-cost, high-volume optics.
The META-DX1 family combines MACsec and FlexE into one solution to meet the next phase of capacity scaling in Data Centre Interconnect (DCI) buildouts.
Further differentiating META-DX1, its integrated flexible crosspoint switching capability makes it easier for OEMs to navigate the market transition from 25Gbps NRZ and 56Gbps PAM-based architectures by enabling them to support a single design or SKU for both 100GbE (QSFP28) and 400 GbE (QSFP-DD) optics.
By providing high-performance timestamping with nanosecond-level accuracy on every port, META-DX1 also ensures network buildouts will meet the challenging timing requirements of 5G mobile base station deployments.
Initial META-DX1 family members will sample during the third calendar quarter of 2019. All are hardware-compatible and supported by the same Software Developer's Kit (SDK).