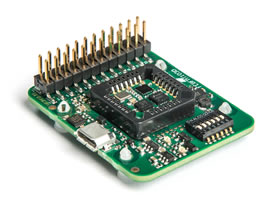 Turnkey Industrial Grade Motion Tracking Module with Embedded Sensor Fusion
Fairchild launched the FMT1000-series of highly accurate Motion Tracking modules, which enables the fast integration of motion intelligence into any system, including drones, autonomous vehicles, unmanned systems, heavy industry, construction, agriculture, VR headsets, and camera and platform stabilization. The FMT1000-series is a range of turnkey Motion Tracking modules outputting inertial data with a complementary offering of roll, pitch and (relative) heading corrections, resulting in the first inertial module, delivering accurate 3D orientation performance with industrial specifications.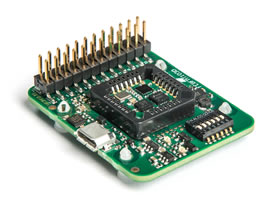 "The FMT1000 modules offer a stable mechanical, electrical and software interface for the lifetime of manufacturers' product designs and are engineered for fast integration, providing these products with accurate motion data without requiring designers to be experts in inertial sensor calibration, signal processing or sensor fusion algorithms," said Per Slycke, Vice President of Motion Tracking at Fairchild. "Our new FMT family, combined with our FIS1100 MEMS inertial measurement unit, gives us a truly comprehensive and compelling motion tracking portfolio that manufacturers can take advantage of, from the smallest to largest production runs."
The modules can be integrated with minimal hardware and software development, employ an easy-to-use communication protocol, open source drivers, and include source code and examples for embedded integration via I2C, SPI, ARM® mbedTM, as well as a full software suite (for Windows and Linux).
Built upon Fairchild's FIS1100 6-axis MEMS Inertial Measurement Unit (IMU), the FMT1000 modules are individually tested and calibrated over the full temperature range to reduce manufacturers' capital investment and development time. All modules are time-synced and run onboard advanced sensor fusion algorithms with auto-calibration and data formatting, relieving the host processor from calculations to save cost and power.
The simple integration requirements of the FMT1000 series of Motion Tracking modules make them excellent for products requiring a fast time-to-market. Complementing this, Fairchild provides an easy migration path from FMT1000 modules to its FIS1100 IMUs for increased volumes with reference designs and sensor fusion software.
The FMT1000 modules come in 12.1 x 12.1 x 2.6 mm PLCC28-compatible packages and are available now in trays or reels. An evaluation kit and full suite of development software are also available.
The FMT1000 series is currently comprised of the FMT1010 which provides calibrated sensor data, and coning and sculling compensated orientation and velocity increments; the FMT1020, which adds roll, pitch and unreferenced yaw and sensor auto calibration; and the FMT1030, which includes magnetic North referenced heading in addition to the capabilities of the FMT1010 and FMT1020.