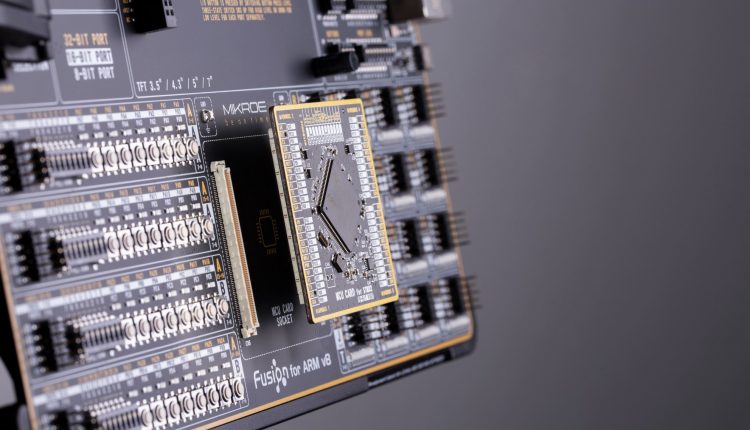 New SiBRAIN MCU development standard from MIKROE is 'game-changer' for embedded systems design
Easily swap-out MCUs during development with no hardware penalty
Belgrade, Serbia June 17th 2021: MikroElektronika (MIKROE), the embedded solutions company that dramatically cuts development time by providing innovative hardware and software products based on proven standards, today launched SiBRAIN, a standard for add-on development boards that facilitates the simple installation and exchanging of a microcontroller (MCU) on a development board equipped with the SiBRAIN socket. SiBRAIN enables embedded designers to try out different MCUs in a prototype system without having to invest in expensive hardware or learn new tools. Currently, the SiBRAIN cards are available to support MCUs from major manufacturers including Microchip, STMicroelectronics, NXP and Texas Instruments, with others to follow shortly.
Nebojsa Matic, CEO of MIKROE commented: "Because there is no universal standardization, for every different microcontroller there is a specific set of operating instructions, new tools to learn, new boards and licenses to buy and new processes to adopt. The SiBRAIN card and socket standard is a game-changer, saving months of wasted development time and money and providing enormous design flexibility."
SiBRAIN uses the same 'plug & play' concept which underpins MIKROE's Click board product range. Depending on the MCU type, its pin count, and the number of required external components, there are different SiBRAIN add-on boards.  Each board is a self-contained unit, allowing the development system to operate on a logic level, without having to facilitate the specific requirements of many different MCUs. This gives designers a free hand in the choice of MCU, regardless of the pin count or pin compatibility. Most importantly, this approach enables designers to swap SiBRAIN MCU cards easily during the development phase, without any additional hardware.
Each SiBRAIN card is equipped with two high-speed 168-pin mezzanine connectors (one male and one female) with the standard SiBRAIN socket pin-out. Cards can be easily installed on any development board with the SiBRAIN socket, and the smart design eliminates the possibility of incorrect orientation and placement. Already, MIKROE offers more than 100 SiBRAIN boards covering popular MCUs such as  STM32, PIC32, TIVA, MSP432, Kinetis and many more with new cards added on a weekly basis.
Please visit https://www.mikroe.com/mcu-cards/8th-generation for more information.
About MikroElektronika
MikroElektronika (MIKROE) is committed to changing the embedded electronics industry through the use of industry standard hardware and software solutions. In 2011, the company invented the mikroBUS™ development socket standard and the compact Click Boards that use the standard to dramatically cut development time. Now the company offers 1000 Click Boards – ten times more than competitors – and the mikroBUS standard is included by leading microcontroller companies such as Microchip, Renesas and Toshiba on their development boards. SiBRAIN is MIKROE's last standard, for MCU development add-on boards and sockets. MikroElektronika also makes the world's widest range of compilers and additionally provides development environments, development boards, smart displays and program debuggers.
Editors contact:
Nebojsa Matic
CEO, MikroElektronika
or Global Agency
Nick Foot
BWW Communications
+44-1491-636393
www.bwwcomms.com