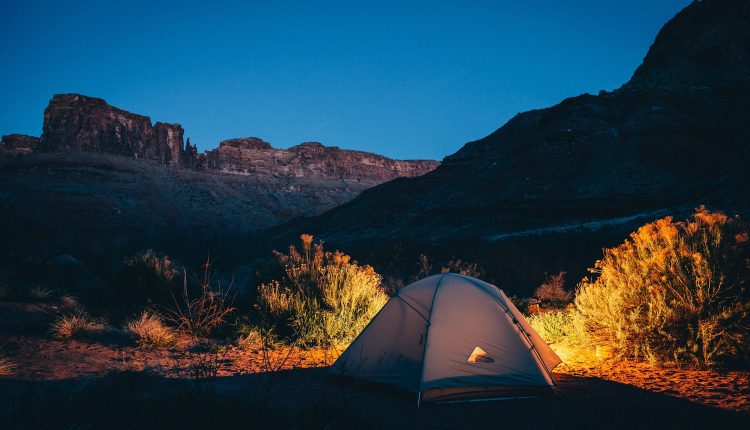 Even amidst the pandemic, camping and outdoor adventure sports continue to experience tremendous growth. As evidenced by increasing sales of bicycles, hiking gear, and clothing, people seem to be seeking relief from the stressors of the coronavirus in the great outdoors. 
The retail industry for hiking and outdoor equipment represents a $7 billion market. Analysts predict a compound annual growth rate (CAGR) of 7.0% between 2020 to 2027 on equipment such as sleeping bags, tents, and other hiking or camping equipment. 
For some, "glamping" in a fully stocked, wifi-ready camper is all the "escape" they need. Other outdoor adventurers may want to rough it in the woods. Most people gravitate toward a middle ground, seeking some of the amenities of home while communing with nature. 
Whatever style of outdoor retreat you prefer, technology has changed the way we camp. These new technologies can help create a comfy, connected, and eco-friendly experience. 
MPowerd Luci Explore Solar Powered Light
Solar-powered lights come in handy while camping; let them sit in a sunny spot all day and they'll be ready by evening. 
The MPowerd Luci Explore offers more than just 220 lumens of diffuse light. It's also a Bluetooth-enabled portable speaker and mobile device charger. Use the companion app to set the color-changing light to wake you with gradual illumination. Power lasts 24 hours on low, 5 hours on high, and 4.5 hours while playing music. The device takes 24 hours to charge in the sun, or you can connect it to any USB power source to charge in about 6 hours. 
GoSun Solar Kitchen
Solar power makes camping fun, easy, and eco-friendly. The Solar Kitchen from GoSun combines the amenities you need for an outdoor camping trip with free, clean energy from the sun. The combo includes a Fusion stove that lets you grill a meal for five in under an hour. Keep food cold or freeze ice for beverages with the included solar-powered cooler, Chill. 
The PowerBank+ battery, which stores a charge from the lightweight, aluminum SolarTable 60, powers both the oven and the Chill. It can also charge mobile devices. If there's no sun available and you're out of power, you can also power all the devices via any 12V power source, including your car, boat, or RV. 
H2gO Purifier
Healthy food. Soft lighting and music. Complete the camping experience with safe water – wherever you may be.
Getting enough water when you're hiking or camping is important. Dehydration can cause dizziness, light-headedness, muscle cramps, fatigue, nausea, and vomiting, among other issues. But water is heavy, and pack space is limited.
The H2gO Purifier is the solution to your hydration challenges.
Small enough to carry in your pocket, the H2gO Purifier treats up to 5 gallons of water per day to satisfy your cooking and drinking needs in the great outdoors. 
It weighs only 3.8 ounces and automatically adjusts the correct dosage of purifier for the volume of water you're treating. If you're planning on spending any amount of time outdoors, the H2gO Purifier is a must-have.
SPOT Satellite Messenger
Those who like camping off the beaten path still require a way to stay in touch with others for safety or convenience reasons. The SPOT X 2-Way Satellite Messenger is an affordable satellite-powered communications tool that works even if you're out of cellular signal range. 
Send or receive messages to or from other SPOT users, or connect your smartphone via Bluetooth using the SPOT X app to communicate with anyone. The SPOT comes with its own cellular number so you can also receive text messages at any time. 
OPKIX Outdoor HD Camera
Did your adventures really happen if you didn't capture them on video? The OPKIX One portable camera system makes sure you don't miss the chance to share a single moment of memory-making. 
Equipped with dual wireless HD cameras, the OPKIX system is lightweight and waterproof to take it wherever you go. Mount it securely on glasses or hats using the magnetic universal mount package, or choose any of OPKIX fun accessory mounts, including rings, necklaces, or a selfie stick. 
Do you have any camping trips planned? What's your must-have tech for outdoor adventures?