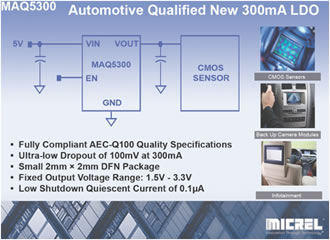 LDO regulator targets growing automotive applications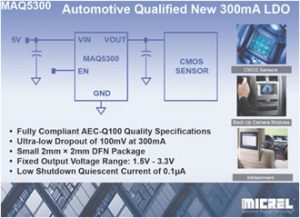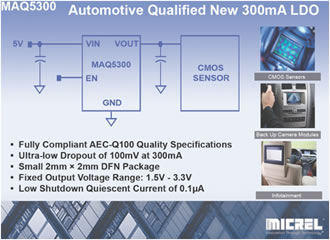 Micrel announced a new automotive AEC-Q100 qualified high-performance low-dropout voltage regulator (LDO) featuring an ultralow dropout of only 100mV at 300mA. The MAQ5300 comes in a tiny 2mm x 2mm DFN package and is ideal for space-constrained and high-reliability applications that are subjected to the harsh environments and temperatures often encountered in automotive and industrial applications. The MAQ5300 is currently available in volume, and pricing starts at $0.39 for 1K quantity.
"As the number of sensors in vehicles increases due to continued developments in the connected-car, the need for smaller power solutions also increases," noted Brian Hedayati, vice president of marketing for high performance linear and power solutions at Micrel. "The MAQ5300 provides a perfect solution for size-critical applications with minimal PCB board space including the rapidly growing market for front/rear/side-view camera modules and image sensors."
Front/rear/side-view camera modules and image sensors represent a key component of the connected car. The National Highway Traffic Safety Administration (NHTSA) in the United States will require all new passenger, and some commercial vehicles, to meet new rear-visibility standards by May 2018. According to a report from the U.S. government, backup accidents involving light vehicles currently cause an average of 210 deaths and 15,000 injuries a year in the U.S., and victims often are children and the elderly.
The MAQ5300 is fully compliant to the AEC-Q100 quality specifications and is supported with the requisite PPAP qualification data. The device features 300mA guaranteed output current and is available in numerous fixed output voltage options of 1.5V, 1.8V, 2.5V, 2.8V, 2.85V, 3.0V, and 3.3V. Other features include an initial precise output voltage accuracy of ±2 percent, low shutdown quiescent current of 0.1µA, thermal shutdown and current limit protection. The solution is packaged in a tiny 6-pin 2mm x 2mm DFN package.