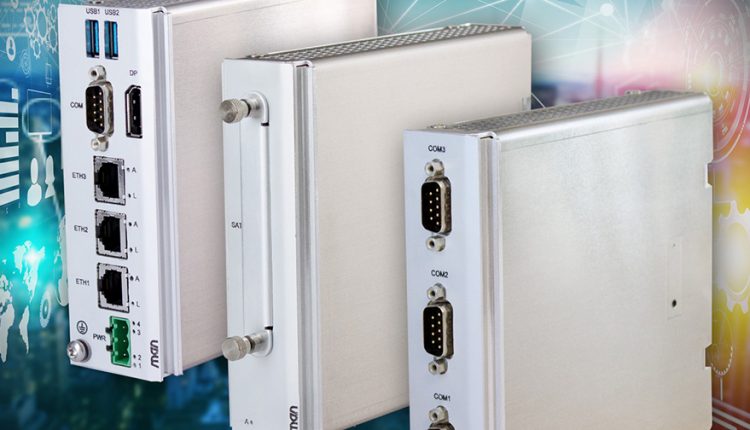 MEN
Robust Modular System for Tailor-Made Applications
The DIN-Rail concept is modular and suitable for a wide range of embedded IoT applications. MEN has now expanded the family concept to include a CPU module for industrial automation, an expansion module for serial communication and a memory module for storage intensive applications.
The DIN-Rail concept is modular and suitable for a wide range of embedded IoT applications. It allows build-to-order configurations: In a modular system, the essential functions are combined in the desired system combination – tailor-made for the application. For this, the individual modules range from the CPU unit to a railway-compatible power supply unit and a series of expansion modules for wireless communication, serial I/O and memory.
The CPU – Low Power for Embedded IoT and Network Applications
The MC50I computer platform is the ideal partner for embedded applications in industrial automation. The module has an Intel Atom E3900 series CPU and offers low power dissipation and scalability in performance and memory. Additional functions such as the board management controller or the trusted platform module provide extended security for the application.
The Mass Storage – Data Repository for Industrial Applications
The ME2 data storage module is a modular extension for DIN-Rail systems. The integrated shuttle is suitable for a 2.5″ SATA hard disk/SSD. For a higher storage capacity, two ME2 modules with up to 8 TB can be combined in one system.
The Interfaces – From Serial to Wireless Communication
The ME3 expansion module has additional serial interfaces. With the three COM ports on the front, four UARTs can be addressed. The standard product has one RS232 port, one RS232/RS422/RS485 port and one RS422/RS485 or IBIS port (master or slave).
In addition, the MC50M CPU module, the ME1 wireless communication module (LTE Advanced, WLAN and GNSS) and the MP1 wide-range power supply (24 V DC to 110 V DC) have already been successfully established.
The Concept
The data transfer between the modules as well as the power supply of the individual components are realized via the expansion connectors standardized by MEN. The concept specifications include housing dimensions, mounting, cooling and IP protection. In addition, expansion connectors and their pin assignment are defined.
Space-saving DIN rail mounting (35 mm) is standard. Wall or 19" rack mounting is also possible with the aid of adaptation brackets. The aluminum housing of the DIN-Rail modules with cooling fins ensures fanless operation.
The main applications of the DIN-Rail family include predictive maintenance, IoT gateways, diagnostic servers, intelligent vehicles, passenger information and ticketing systems.